All About Organic Sheets & Bedding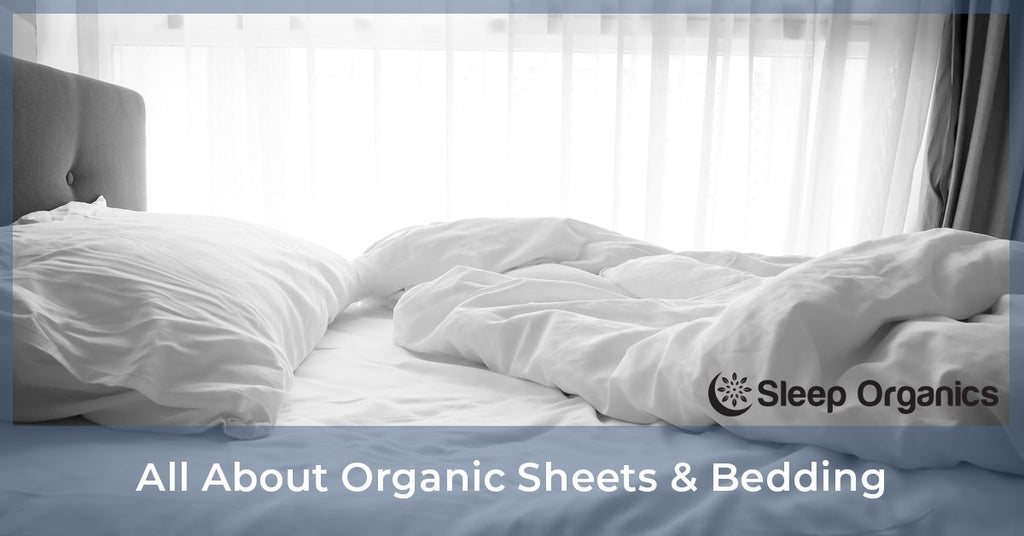 Gone are the days where buying sheets and bedding is easy. With the large selection of bedding supplies on the market, it can be daunting trying to decide which bed sheets and covers are the best choice for you. From traditional cotton sheets to bamboo sheets, it's challenging trying to decide between synthetic and organic materials, as well as the ideal thread count. Before you start shopping for new sheets, comforters, and duvets, you should have an understanding of the various materials that bedding is made of. Let's take a look at the different cotton fabric options below.
Cotton
Cotton is the most popular fabric for sheets because it is incredibly durable, breathable, soft, easy to clean, and quite affordable. There are many different types of cotton sheets and fabrics to choose from, including:
Organic Cotton – This type of cotton is the safest type from which to choose. It is an untreated cotton (free of dyes and pesticides), making it an ideal choice for people with allergies and chemical sensitivities.
Egyptian Cotton – This is the most well-known form of cotton because it features extra-long fibers for an incredibly soft feel. This kind of cotton is often grown in the warm, dry climates of North Africa.
Pima Cotton – Often grown in the southwest region of the United States, pima cotton features medium to extra long fibers. This cotton provides a wonderful softness with a natural sheen.
Upland Cotton – Upland cotton is the type of cotton you'll find in 100 percent cotton sheets. It has short fibers, meaning it's not as soft, but these sheets are known to be fairly affordable.
Naturepedic Organic Cotton 400 Thread Count Luxury Sheet Set
If you're looking for an organic cotton sheet set that was made without synthetic insecticides, herbicides, or genetically modified organisms (GMOs), you'll love the Naturepedic Organic Cotton 400 Thread Count Luxury Sheet Set. This luxury sheet set comes in a natural color and can fit mattresses up to 15 inches deep. With certification from the Global Textile Standard (GOTS), you can rest assured that this sheet set was made with high standards for organic purity. When you purchase organic cotton sheets from Sleep Organics, you're contributing to a better, healthier night's sleep and a cleaner, safer world.
OMI Certified Organic Eco-Wool™ Comforter
Completely free from dyes and harmful chemical bleaches, OMNI Certified Organic Eco-Wool™ Comforters offer more comfort than traditional synthetic fabrics. This comforter features plush layers of premium certified organic wool that has been quilted into an organic cotton sateen cover fabric. Wool offers incredible insulating qualities, making this the perfect organic comforter to have any time of the year.
OMI Pearl Organic Sheet Collection
When it comes to organic sheets, OMI makes some of the best in the industry. The OMI Pearl Organic Sheet Collection features a 300 thread count, GOTS-certified organic sateen cotton in a creamy ivory color. Each sheet set comes with a flat sheet and a fitted sheet. The Twin and Twin XL sheet sets include a standard pillowcase, while the Full size features two pillowcases. Queen sets, King sets, and California King sets also include two pillowcases.
Savvy Rest Organic Cotton Sheets
The Savvy Rest Organic Cotton Sheets are made from fine, long-staple cotton. These sheets have a natural cream color that will blend perfectly with any decor. With a 300 thread count, these bed sheets have a smooth, soft finish that you're sure to love. These sheets are GOTS-certified and have been produced in a GOTS-certified facility.
If you live in Sarasota, Florida, or the surrounding areas and you need help finding the best organic sheets for your home, stop by Sleep Organics today.