Organic Pillow Materials You Should Know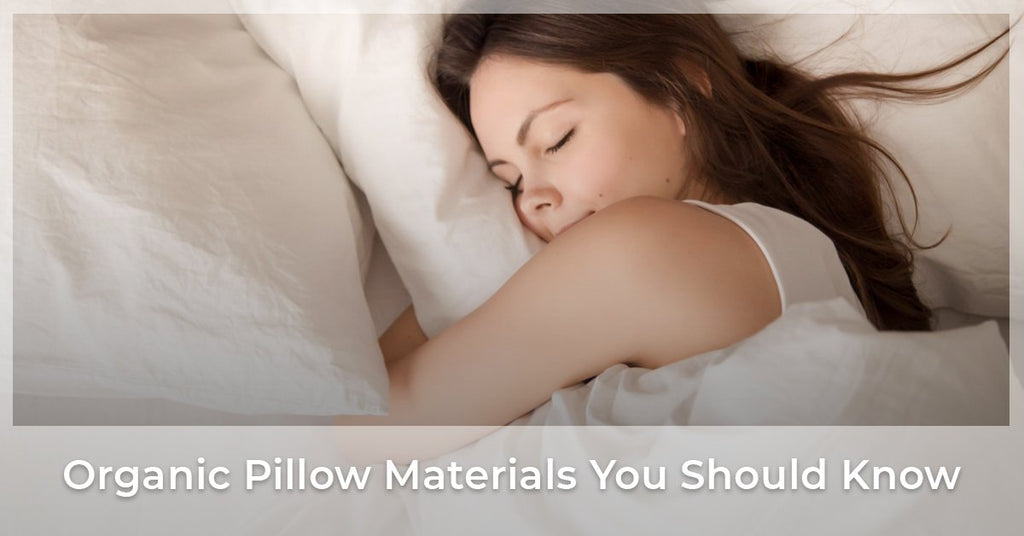 You may be wondering, what exactly is in an organic pillow that makes it organic? While most conventional pillows on the market are made from petroleum-based polyester (and sometimes polyurethane), organic pillows are made from organic materials, making them the healthiest pillow option out there. Some common materials found in organic pillows include:
Buckwheat – Buckwheat is a pillow filling that is slowly gaining popularity in the United States. These kinds of pillows are known for conforming to the sleeper's neck and head, so if you suffer from neck pain in the morning, this type of pillow may be perfect for you.
Natural Shredded Latex – Natural shredded latex pillows are safe and non-toxic. These pillows are known for resisting dust mites, fighting mold, and regulating heat.
Organic Cotton Pillow – Organic cotton pillows come unwashed, unbleached, and untreated.
Natural Kapok – If you love down but suffer from allergies, consider getting a natural kapok pillow. These pillows are allergy-free and incredibly fluffy. They are also hypoallergenic, water resistant, and chemical-free.
Eco-Wool – Eco-Wool pillows are known to be lightweight, and they are great at wicking away moisture for a sound night's sleep. These types of pillows are naturally dust- and mildew-resistant, or hypoallergenic.
Popular Organic Pillows
OMI 100% Certified Organic Cotton Pillow
One of the best organic pillows on the market is the OMI 100% Certified Organic Cotton Pillow. This pillow is filled with 100-percent certified organic cotton, and comes available in three weights: light, medium, and full. The American-grown organic cotton found in this pillow has been specially sanitized with a non-chemical ozone process, so you don't have to worry about rubbing your face up against harmful chemicals.
OMI Wool-Wrapped Organic Buckwheat Pillow
The OMI Wool-Wrapped Organic Buckwheat Pillow is called a dual-chambered pillow due to its unique patented design. The design features two supportive inner cores made of Eco-Wool™ that runs the length of the pillow. The two cores are surrounded by additional layers of organic buckwheat hulls, making it incredibly supportive. One of the best things about this organic pillow is that it is made with a zipper, meaning you have the option of removing materials to customize your pillow to meet your needs.
Savvy Rest Organic Kapok Pillow
As we mentioned above, natural kapok is a great pillow filling for people who suffer from allergies. With a luxurious softness, this hypoallergenic pillow features a zipper, allowing you to remove any amount of fill you'd life. With a certified organic cotton outer casing, this vegan pillow is a wonderful plant-based alternative to down. When you need a fluffy, chemical-free pillow, consider buying the Savvy Rest Organic Kapok Pillow.
Savvy Rest Organic Latex Contour Pillow
The Savvy Rest Organic Latex Contour Pillow provides an overall firm feel with incredible neck and head support. Specifically designed for side sleepers that are looking for a little extra neck support, this formed latex pillow is made of Dunlap latex. One major perk of this organic pillow is that the outer organic cotton flannel pillowcase can be hand-washed in cold water.
Shop For Organic Pillows In Sarasota
If you're ready to ditch your old pillows for new organic ones, stop by Sleep Organics in Sarasota today. We carry a large and impressive selection of certified organic pillows, mattresses, sheets, bedding, and mattress toppers, and we would love to introduce you to some of our favorite products. As the only authorized retailer of Naturepedic, Savvy Rest and OrganicPedic by OMI in the Tampa Bay area, we're sure you'll find the perfect mattress at our local mattress store. Learn more about Sleep Organics and our organic pillow collection online today.