Better Sleep for Your Health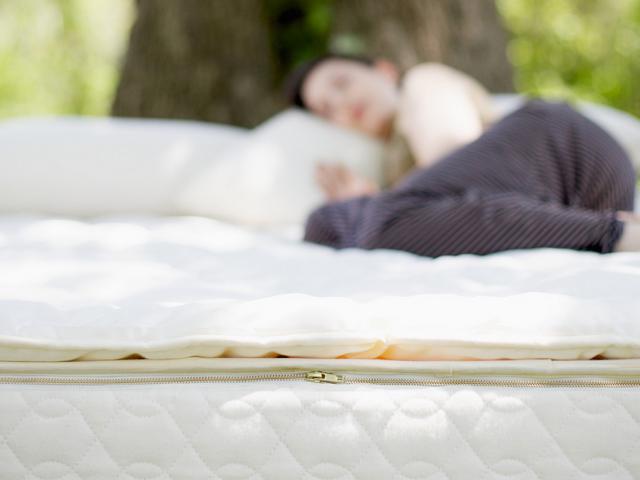 There's nothing better for your health than a good night of sleep.  Not only does sleep "recharge" our batteries, but it plays a vital role in our physical well-being, from weight loss to disease prevention to our complexion. It's one of the most important things we can do for overall health. Considering we sleep on average 1/3 of our lives, it's easy to understand what a difference a good night of sleep can make.
There are a number of ways you can perfect your nighttime routine and create a relaxing, rest-inducing sleep environment, what about your mattress and bedding?
WHAT'S IN A MATTRESS
Your mattress is the foundation for quality rest. If your current mattress is over 8 years old, it could be time for a replacement.  If it's time to look for a new mattress, consider it as an investment in your sleep and, therefore, your health. The right mattress can make a tremendous difference in the quality of your sleep, especially if you're experiencing any pain or discomfort while sleeping. Mattress choices can be overwhelming, but when shopping for a new mattress remember to take your time and find the right feel for you. A mattress that's too firm can aggravate pressure points, while one that is too soft won't properly support your body, resulting in an achy morning. Seek out the most comfortable mattress possible. This will encourage deeper, more quality sleep.
Visit a sleep center with knowledgeable friendly staff, and take your time trying out the options. Don't be afraid to bring your pillow from home and take 15-20 minutes trying out each potential new mattress. If you're looking for a mattress to specifically fit your body and ideal comfort level, a customizable mattress may be a good option for you.
It's important, when considering a new mattress, to look closely at not just how it feels but the materials it contains.  Traditional mattresses often contain petroleum-based foams and glues that can emit volatile organic compounds (VOCs). These VOCs can cause respiratory problems and skin irritation. They also may contain formaldehyde, used to make adhesives and known to cause asthma, allergies, and lung, nose and throat cancers. Mattresses could also have pesticides in the cotton and, often, flame-retardant chemicals as well.
No one is entirely sure which chemicals are used in traditional mattresses to pass flame retardant tests, as large manufacturers will not divulge their flame-retardant formulas which are considered trade secrets. Class action law suits have been filed against some of these manufacturers, claiming they mislead consumers about the smell of these mattresses being considered "harmless."
The good news?  There are safer, healthier alternatives!  If you have a history of headaches, thyroid or hormonal issues, or specific sensitivities or allergies, it may be worth considering healthier mattress and bedding options.  Companies that specialize in more natural and organic sleep solutions, like Savvy Rest, Naturepedic, and OMI have found that a layer of natural wool provides the same fire protection without the chemicals. More consumers are seeking out mattresses made of natural latex, organic cotton batting and organic wool, in order to sleep better and create an overall healthier sleeping environment.
PILLOWS AND BEDDING
Once you've addressed the "foundation" for a good night of sleep (your mattress), don't overlook your bedding. We may not immediately think of pillows and sheets impacting our health, but they can certainly affect how restful and regenerating our sleep is each night. When choosing a pillow, consider the material that's in the pillow as well as your sleeping position. There are a multitude of material choices, including various down alternatives like cotton, kapok, or shredded latex, and solid pillow choices made of natural latex. When considering a pillow for your sleeping position, back sleepers need medium support to cradle the natural curvature of the upper spine. Side sleepers will do best with a firm pillow that contours the head, neck, and shoulders to ensure spinal alignment. If you sleep on your stomach, choose a soft, plump pillow that cushions the head and neck without unnatural turning to either side.
If your sheets are hot or scratchy, it can certainly make for a restless night of sleep. Consider sheets that are made from natural materials for a cooler, softer sleep. If you're concerned about exposure to residues, dyes, or chemicals, consider organic cotton sheets, which become softer with every wash.
If you suffer from allergies or sensitive skin, a mattress encasement, or protector can be an important part of your bedding. Not only will it protect your mattress from body oils and spills but it can help prevent dust mite and pet dander buildup, and even provide a barrier from some of the chemicals that may reside in traditional mattresses.
FURNITURE TOO
Beyond your mattress, the wood furniture in your bedroom could have toxic stains or finishes which may emit harmful VOCs.  If your furniture contains particle board, mdf, or toxic glues, the chemicals could be even worse.  You can breathe easy, however, by choosing platform beds and bedroom furniture options which feature low or no-VOC and water based stains and finishes.  Our Afton and Esmont Platform beds are great options.  For eco-friendly options, look for furniture built from solid wood in the U.S., with North American hardwoods.  It doesn't get more natural than that!
REST EASY
From small changes to investing in a new mattress, there are a number of steps you can take to getting a better night's sleep. When the quality of your sleep increases, you feel better and look better, but more importantly you are healthier!
At Sleep Organics we carry only products that are certified for your health.  All of our mattresses and bedding are free of flame retardants, and any toxic chemicals that could off-gas.  Our mattresses are made of materials like organic cotton, organic wool, organic latex, organic kapok, or even buckwheat.  All of our mattresses feature a cover constructed of organic cotton with organic wool batting, which acts as a natural flame barrier.  No chemicals needed!
Not only are these mattresses better for your breathing space in the bedroom, but they can also help with health problems such as the aches and pains that can be all too familiar to some of us.  Many of our mattresses at Sleep Organics are completely customizable, allowing you to mix and match firmness layers, and even further customize each side of your mattress if you partner needs a firmer or softer feel.  No compromises, not even in the bedroom.
Your bedroom should be your sanctuary, the place where you retreat and recharge.  Why not make it the most natural place in your home, without any bad chemistry that could be affecting your health or your sleep?  We're confident in our natural and organic products at Sleep Organics and know they can bring a more natural balance to your bedroom, and result in a better healthier you.
For more information 941-312-5906 , or to schedule a free sleep consultation.