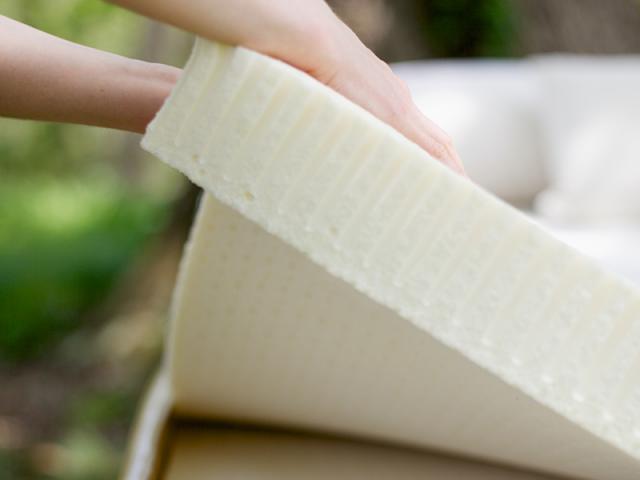 When it's time to choose a new mattress, the majority of consumers think heavily about how a mattress feels (which is important!) but spend no time thinking about what it's made of.  We believe that mattresses and sleeping environments should be safe as well as comfortable, and you shouldn't have to compromise one or the other.
All of the mattresses from Sleep Organics feature safe, non-toxic, all natural materials.  Many of these materials come with certifications to demonstrate their purity and responsible manufacturing, including USDA organic, Cradle to Cradle, Greenguard Gold, and Oeko-Tex.
One material that we often get questions about is Talalay Latex.  It's a name that's becoming more and more common in the world of mattresses, both organic and conventional.  It is often sold as synthetic or synthetic/natural blends, so be sure you look for specific certifications to know what you're getting!
Talalay refers to the process used to form the latex layers.  So, what makes the Talalay process different?  There are two additional steps to the process, which result in a more consistent cell structure from top to bottom and edge to edge.  The latex is poured in the mold, the mold is then sealed and processed in a vacuum chamber.  In a final step, the latex is flash-frozen before being baked.
Often compared to angel food cake in it's appearance and consistency, Talalay is one of the most luxurious natural latex options.  Our Talalay natural latex is Cradle-to-cradle certified and meets strict GreenGuard GOLD emission standards.  It also meets all ecological and safety demands for baby products.
*That's great, you might think, but how does it feel?  Talalay latex, just like Dunlop latex, is available in a range of firmnesses.  It has a natural "springy" texture which makes it very responsive, good for relieving pressure, and extremely comfortable.  Soft talalay has a cradling feel that some compare to that of memory foam.  Talalay's unique structure also results in a natural buoyancy, which provides durable support while comfortably relieving pressure.  Unlike conventional and synthetic latex options, Talalay is one of the most breathable latex foams available.  This means that sleepers don't report heat buildup often associated with most other foams.  Finally, Talalay latex features added ventilation and moisture regulation compared to synthetic foam alternatives, which can significantly reducing the chance of these allergens getting into your mattress.
Our Serenity, and Unity Pillowtop mattress models are available with Talalay latex options.  We also carry the Vitality Talalay topper, and the Harmony topper – customizable with Dunlop or Talalay latex options.  Another customer favorite is our Natural Talalay Pillow!
Often guests come into our store and try Talalay latex for the first time.  From the feedback, they love the way it feels and responds to their body.  In one customer's words "I sleep more soundly and experience less pain than ever before."  I personally sleep on a combination of soft Talalay over layers of Dunlop and the combination is perfect for my body.  To try for yourself, schedule your free sleep consultation today!
*Credit: Savvy Rest https://savvyrest.com/info/talalay-latex